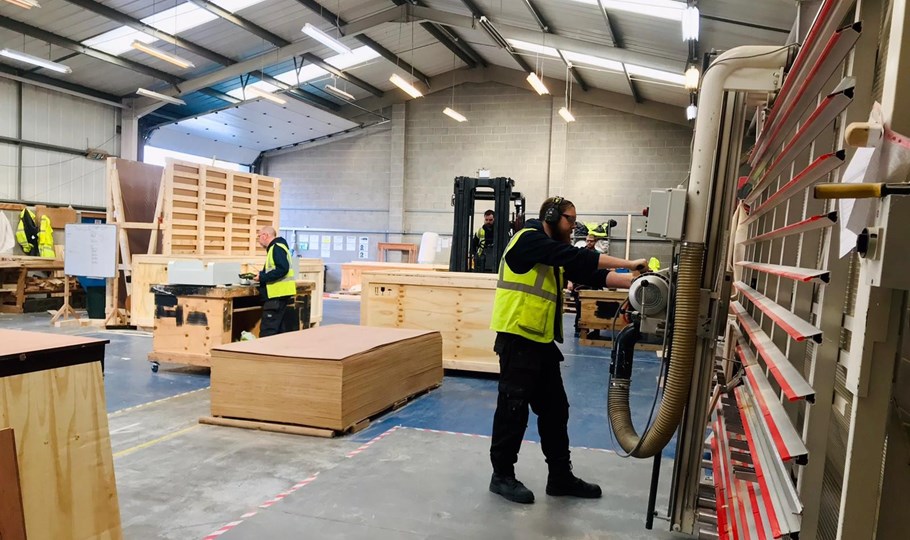 Thinking outside of the box, CCL Logistics & Technology has grown its Export Packing division to create solutions for all manner of ugly freight, ranging from army tanks to tea sets. Here CCL explains why Precision Packing has never been more important.
Damaged deliveries can impact customer satisfaction and brand reputation, as SalesCycle 2020 data showed 80.2% of sampled customers returned items because they were broken in transit.
While damage-in-transit is disappointing in consumer goods, in critical sectors such as defence, damaged products risk customers' life and limb.
Yet breakages can easily happen when shipping ugly freight — of awkward shapes, sizes or a delicate nature — in standard parcel or pallet solutions. This is why customers turn to precision packing experts, such as the CCL Export Packing team.
TANKS AND TEA-SETS
CCL Commercial Manager, Natalie Robinson, said: "We can pack any sized goods so that they are suitable for onward logistics, they don't even have to be being exported – we pack items that move within the UK. Whatever a customer wants, we can pack it in a way that keeps it safe."
The CCL Export Packing Team has created solutions for sectors such as oil and gas, construction, medical, public sector, fabrication, aerospace, automobile and defence.
Natalie recalled: "The biggest thing we have ever packed was a tank, 40 foot long, three metres high and three metres wide. The smallest thing we have ever packed was a china tea set, worth tens of thousands of pounds."
THOROUGH PROCESSES
No matter the item, the packing process starts with a scoping call, email or GA (General Arrangement) drawing. Following the brief, the team assesses the job and outlines a solution. Once agreed, they build the casing and internal lining to pack the goods.
Natalie explained: "When dealing with smaller or more delicate items, we manufacture the case out of a thicker timber or plywood. Then we coat all walls of the case with foam lining and sometimes we carve out specific holes in it, so that items can slot into the foam perfectly. Finally, we pad it, using cardboard bubble wrap and polystyrene."
EXTRA PROTECTION
Electrical goods get hermetic seals and anti-corrosive foil barrier bags, as well as desiccants to protect from moisture. Defence equipment is also given VCI-protected packing, which prevents rust and oxygen exposure.
Natalie added: "If we are sending goods via sea, then we will polyline the interior of the case to make sure that it is water-tight. We can also use yacht varnish to cover the cases, making it water resistant."
Calculations are run to ensure the packing protects its goods for the required duration, a skill honed in the team's decades of experience.
LONGSTANDING RELATIONSHIPS
Natalie said: "The longest-standing member of the team has been with us for about 10 years. Adam started as a case maker, progressed to a packer, then moved to the specialist team, where he became their team leader, and now he is the Manufacturing Manager."
The close-knit team build lasting relationships with customers.
Natalie explained: "We find that when customers have worked with specific packers in the past, they request to work with them again on new projects."
EXPERT ADVICE
Through each project the Export Packing team offers unbiased advice.
Natalie said: "Sometimes customers will ask for a packing solution that is more complex than need be, then we explain the simpler solution. Working in this efficient way builds our customer's trust and means they are likely to come back to us."      
This integrity has seen CCL entrusted with confidential projects.
Natalie explained: "We ensure the privacy of our customers – for instance we have worked on prototype cars that we cannot discuss, even with colleagues in other CCL teams!"
HIGH STANDARDS TO DEADLINE
Recent jobs that the team can discuss include packing for Rolls Royce and a warehouse container project.
Natalie said: "We have just fulfilled an order of 200 warehouse containers within a month of starting. That speed of delivery is almost unheard of, as a lot of our competitors have a six-month lead-time."
She concluded: "We can turn cases around in 24 hours on most occasions. We work with customers' specifications on time, project pricing, and design to give an all-round great experience."
EXPORT PACKING
Read more about CCL's Export Packing services