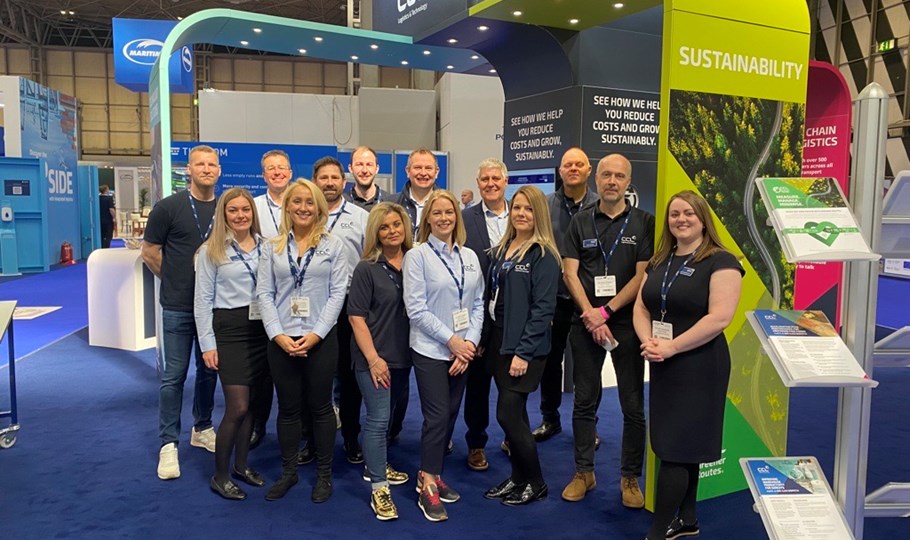 Back and bigger than ever, the colourful CCL arches returned to The NEC in Birmingham from 14-16 June to exhibit at Multimodal 2022.
With a Pack Station Challenge and the Delivering Happiness Bar, the CCL stand was a hub of activity throughout the three-day show. Over that time, the CCL Expo team rubbed shoulders with government officials, trade bodies and industry leaders; sharing tips on how businesses could reduce their costs and grow, sustainably.
Here Julie Shennan, CCL's Content Marketing Manager, recaps key themes from the show, including supply chain resilience, workers shortages, sustainability, digitalisation and customs changes.
Supply Chain Resilience
Kicking off the conference, David Wells, Logistics UK Chief Executive, praised the tenacity of the industry in his keynote.
He said: "It's a testament to the dedication of staff throughout the logistics sector that supply chain solutions have been found for problem after problem, with minimum disruption. From the displacement of shipping containers to a shortage of HGV drivers, our highly connected supply chain has largely remained intact."
However, David acknowledged that the sector faced the continual challenges of rising fuel prices and wage inflation.
He added: "We now find ourselves in a cost crisis, with the average fuel costs at the highest level on record. This combined with rising inflation, wage inflation particularly, puts incredible pressure on logistics businesses."
To combat this, David said Logistics UK would lobby government on behalf of the sector to reduce fuel duty.
He admitted that it was harder to tackle wage inflation, which came as a result of businesses attempting to retain talent in times of worker shortages.
Worker Shortages
To overcome worker shortages, Logistics UK outlined its collaboration with government and industry partners on Generation Logistics, a campaign to inspire new supply chain employees.
David said: "We want to attract young people, diverse people and women into the industry. The time is right."
Samantha Brocklehurst, Maersk UK and Ireland Customer Experience Director, explained why Maersk was sponsoring Generation Logistics.
She said: "We have work to do now, ensuring that as an industry we have fair hiring practices and making sure that we have diverse shortlists, but we can't just look downstream, we have to look upstream and capture the imagination of young people."
Sustainability
As well as discussing the next generation of logistics workers, Multimodal's speakers talked about the next generation of logistics vehicles being built, adapted and fuelled to reduce carbon emissions.
Peter Livey, HMM Managing Director said: "On Friday IMO (International Maritime Organization) had an MEPC (Marine Environment Protection Committee) meeting. One of the discussions from that meeting was making sure all the ships have a stricter metric for showing year on year carbon emissions improvements."
In an effort to reduce carbon emissions, Peter explained shipping lines were embracing greener fuels such as hydrogen and methanol. However, he noted that businesses could also do their bit to reach Net Zero, by employing a carbon tracker solution, to enable them to understand and reduce their carbon footprint.
From stand 6060, the Expo team explained CCL's Greener Routes solution, which calculates CO2 for every shipment, allows businesses to analyse data by carrier, country, customer or mode of transport, helping them identify ways to reduce their transportation emissions.
Greener Routes was just one of the technology solutions on display at the CCL stand. Also drawing in crowds was the CCL Pack Station Challenge, which used warehouse automation technology to demonstrate how to dispatch orders with zero packing errors and up to 10x faster.
Digitalisation
Technology's role in driving supply chain efficiencies was a key theme throughout Multimodal, as Joe Peak, Commercial Director at Winward, highlighted the need for greater digitalisation of the sector.
He said: "Digitalisation is the application of technology to enable your operations people to focus on providing a higher value outcome or added value activities.
"The other driver to embrace digitalisation is customer demand, when you see an increase in demand you want to have the ability to scale at your fingertips."
Never have logistics businesses needed to embrace digitalisation more than they do now, when switching to the new CDS (Customs Declaration System).
Richard Coker, Trading Customs Specialist at the IOE&IT, said: "The switch to CDS is already happening. Just now businesses can flex between the old CHIEF (Customs Handling of Import Export Freight) system and CDS, but there are cut-off dates when everyone will have to switch to using CDS. The cut-off for imports is September 1 2022, and exports is 31 March 2023."
With more complex data fields required on CDS, entries take longer under this system. Brexit also means that more businesses than ever before will be clearing customs for the first time, so traders are advised to employ specialists to help them complete customs clearance.
Back at the CCL stand, the Expo Team demonstrated how CCL's Transport Management System, myCCL, uses a Commercial Invoice module to digitalise customs clearance.
CCL at Multimodal
After countless demos and discussions, and reconnecting with old friends and meeting exciting new prospects, the CCL Expo Team wrapped things up, ready to continue conversations back in the office.
Missed us at Multimodal 2022?
Talk to our team about your logistics and technology requirements and see how we can help you reduce costs and grow, sustainably.