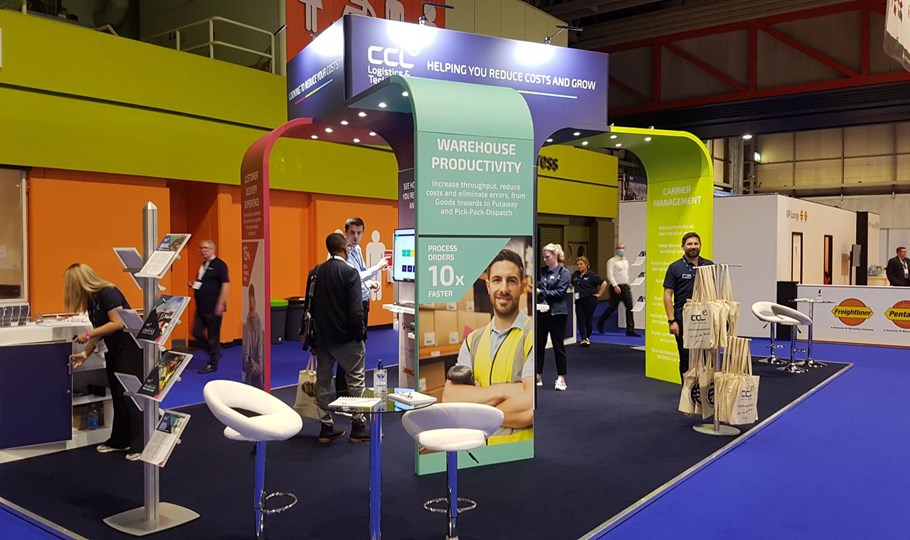 Fresh from its return to live events at the Internet Retailing Expo (IRX) CCL Logistics & Technology came back to Birmingham's NEC from 19-21 October to exhibit at the Multimodal 2021 conference.
Joining government advisors, trade bodies and industry leaders at Multimodal, CCL shared tips on how businesses could reduce their costs and grow, while hearing about the supply chain challenges its stakeholders were facing. Here Julie Shennan, CCL's Content Marketing Manager, recapped the key messages from the show.
2022 CUSTOMS UPDATES
The issue at the front of many minds was the UK Customs changes, coming into force in January 2022.
From the keynote arena, Margaret Whitby, Head of Border Industry Engagement at The Cabinet Office Border and Protocol Delivery Group, said: "The big change is that at the moment if you are bringing in goods to GB, you don't have to be authorised for simplified procedures, you can just give the haulier your EU number and come on in, then within six months you must put in your customs declaration.
"That system will end on 1 January 2022, then all importers will have to submit their customs declaration before they come (prelaunch them). New simplified procedures will also have to be applied for and approved."
Margaret explained another change coming next summer — from 30 June Safety and Security Import Declarations will come into force for goods arriving from the EU.  She said these changes are likely to slow businesses' supply chains unless they prepare now.
PREPARING FOR BREXIT CHANGES
To help businesses follow the new rules and minimise the disruption from Brexit, UK Government has consulted with a consortium of industry leaders including Fujitsu, The Institute of Export & International Trade and Competere.
Shanker Singham, Competere Chief Executive Officer, said: "In the consortium, the first thing that we did for the government was work on the Digital Trader Services (DTS). In DTS we have created a 750 person contact centre and have 50 -70 IOE and customs agents to answer traders' questions."
As well as taking customs advice, the consortium advised businesses to budget extra time to do the administration.
Frank Dunsmuir, Fujitsu Industry Lead Customs & International Trade, said:
"You have to build the admin time into your current processes to ensure that you are compliant at the right time. Some people are allowing up to three extra days."
AGILE PLANNING FOR GROWTH
Advanced planning and responding to change quickly was also the theme at the CILT (Chartered Institute of Logistics and Transport) stand. Allison Glandfield, CILT Partnerships Executive, noted that Brexit disruption had caused businesses to become more agile, in order to grow.
She said: "During the pandemic we noticed some of our members were implementing projects in weeks or even days, for instance to set up a new warehouse system, which would before have taken months or even years. The agility that the supply chain has always been able to reflect is even faster now."
INVESTING IN DIGITISATION
This sentiment was echoed in the Lessons from COVID panel discussion.
Tristan Koch, Awery Aviation Chief Commercial Officer said: "COVID has helped businesses recognise that they really need to invest in digital technology. The digital technology adaptation process needs to get better. Organisations need to become braver with testing and learning, rather than waiting on the next thing to disrupt their supply chain."
CCL AT MULTIMODAL
Recognition of technology's role in aiding business growth was evident at the CCL stand, with its demo stations in full swing. The team found most of their conversations were not just about CCL's logistics services offering, but also focused on its multi-carrier management platform, options to increase warehouse productivity and its customer experience solution.
Following a hugely successful event at Multimodal 2021, CCL has already signed up for next year's show, from 14 - 16 June 2022 at NEC, Birmingham.